Sunless Sea made dark and moody waves among the gaming community back in February, pulling more delicious friends into the foggy world of Fallen London. Now the bell tolls for those unaccountably peckish, as Failbetter Games plan to bring the Rubbery Men to your phone.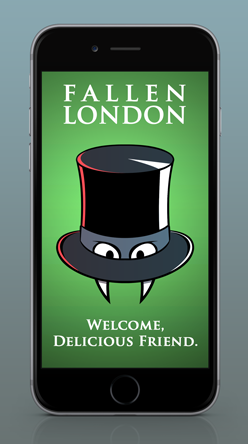 Originally titled Echo Bazaar in 2009, Fallen London has been one of the more popular browser-based games. With thousands of stories woven through the Gothic underbelly of an alternate timeline Victorian London, the game sucks in those who find their lives lacking a certain level of hazardous mystery.
Slated for a 2015 release, with a more concrete date to come as development progresses, Fallen London will be coming to iOS devices as a free-to-play app. Existing users can sync their characters to their device and offline play will be supported. Subscriptions and premium purchases will be available in much the same way as they are in the browser version.
The developers at Failbetter Games have stated that they're hopeful an Android version will be released based on the success of the iOS build.
For those unfamiliar with the nightmares that await, you can start playing Fallen London right now in your browser here.