After more than 20 years of development, the greatest roleplaying game of them all is finally ready for release! Grimoire is an homage to the classic dungeon blobbers and is inspired by Wizardry, Might & Magic, Lands of Lore, Anvil of Dawn, DungeonMaster and the Eye of the Beholder games!
But will it ever launch? Indie developer Cleveland Mark Blakemore's obsession and self proclaimed Magnum Opus, a lifetime's work of 20 years and counting, has finally made it's way to Steam – and missed its launch date…
Which is not too surprising, as 20 years of tinkering with one game, typically indicates an underlying time management problem. But hey, you can't discount the effort that has clearly gone into Grimoire : Heralds of the Winged Exemplar.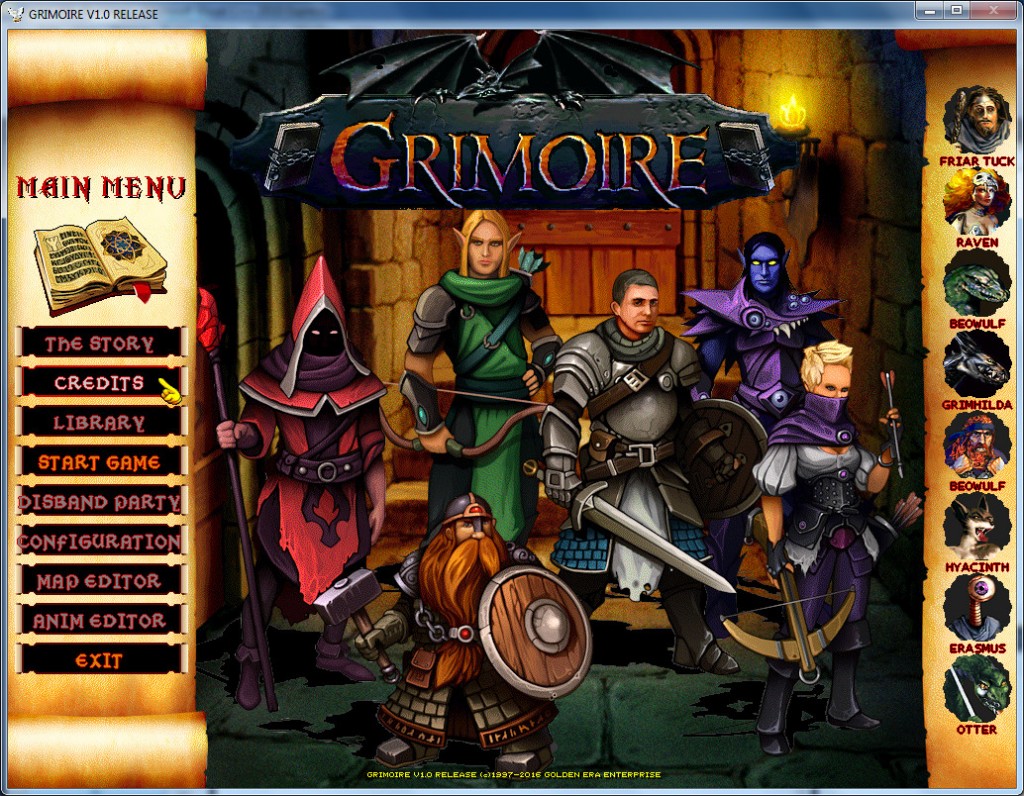 Grimoire touts itself as the The ultimate classic style turn-based roleplaying game in the tradition of Wizardry, Might&Magic, Lands Of Lore and Eye of the Beholder. And it certainly looks the part. It looks like somebody pulled a floppy disk from a forgotten time capsule packed away in the early 90s. Because it is exactly that.
This game is not a modern take on the 90s era turn-based adventures, designed to stir up nostalgia, no. It is a 90s game, which has likely had some issues with development (Considering Stardew Valley, which by comparison, took one developer just 4 years to make, and by all indications is a vastly superior game). All that aside, I'm keen to get my hands on Grimoire, if / when it officially releases.
One problem that can arise from working on anything for  20 years; it can get be difficult to let go.  To push the button and see your over-nurtured child run off, stumbling into an unfamiliar cruel world, possibly dying a swift and savage death.
You see there are no guarantees in the game dev world. Lengthy development cycles, in no way correlate to a games success. It's a great talking point sure. But it also brings more scrutiny, especially when you have decided to slap a $40 price tag on it. (Yes $40). Which in the end could be its downfall.
Another issue is the game has spanned several technological evolutions. You will notice the game is completely designed in 4:3 screen ratio. This may bring a little charm to it today, but let's be real. You can be successfully nostalgic in 16:9, but that would require the developer to rework a stack of graphics and code, likely pushing the game well beyond 2030.
So let's see what happens with this one. Win or lose, it will be an interesting case study to say the least. let's just hope the title of said case study won't be How not to launch a game after 20 years, or  How not to be a jack ass to your community.
Here is the list of Grimoire's features, as listed by the developer:
600 hours of play possible in a single game
Lush Colorful 2D Hand Drawn Artwork
Retro style MIDI music and 8 bit sound effects
244+ Maps in the game to explore!
Turn-Based strategic combat
Multiple Beginnings, Multiple Endings
144 context sensitive magic spells
14 races, 15 professions, 50 skills
64 intelligent NPCs with 8000+ Words in Vocabulary
Full Sentence Communication with NPCs
240+ monsters each with special powers and defenses
1000+ items, Carry Containers, Global Party Inventory
30 conditions, from Confusion to Disease & Lycanthropy
Automapping, Autowalking, Autohealing
Global Map Atlas With Position Marker
Quest Journal, Hint Prompting, Help Facility, Mini-Quests
Complex LockPicking Interfaces for Doors & Chests
Challenging Puzzles and Rich Interactive Dungeons
Browsable Character Library for up to 100 characters
Up to 12 Commented Postage Stamped Savegames
Multi-themed GUI and customizable screen layouts
Check out the games Steam page here:
http://store.steampowered.com/app/650670/Grimoire__Heralds_of_the_Winged_Exemplar/